Be a Part of Revolutionary Leadership Development at Catalyst University 2023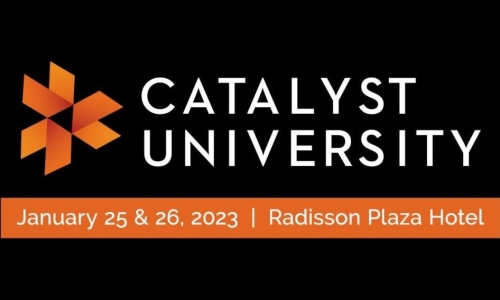 With a long history of successful, revolutionary leadership development, Catalyst University, presented by Southwest Michigan First, is a great opportunity for anyone to learn from influential entrepreneurs, hear from community leaders, and build relationships with those pushing Southwest Michigan into the future. Whether you are looking for inspiration for your business, leadership development skills to take back to your business, or motivation to reach your goals, you can find it all at Catalyst University.
Southwest Michigan First is proud to host Catalyst University once again for the greater Southwest Michigan area. Always focused on pushing our local leaders to achieve bigger and better things, this conference is a great opportunity for anyone.
The featured speakers
Catalyst University is featuring a variety of speakers from the community and beyond that will be delivering expert advice, uplifting messages, and help you learn what you need to know to make connections with those in your industry. Speakers include:
Mitch Albom – Mitch Albom is an author that has sold more than forty million copies of his books in forty-eight languages worldwide. With eight number-one New York Times bestsellers, award-winning TV films, stage plays, screenplays, and more, we are excited to bring his experience to Catalyst University 2023.
Natalie Nixon – Natalie Nixon is an expert in creativity and innovation that has been featured in Forbes, Fast Company, and Inc, and is one of the top women keynote speakers for Real Leaders and BigSpeak. She helps to shape leaders to amplify growth, and we are proud to feature her as part of our speaker lineup.
Damon West – Damon West is a nationally-known keynote speaker and best-selling author. With a nationally and globally featured story of how he transformed his world after his release from a Texas maximum-security prison, he shares this experience to help others find ways to transform their lives for the better as well.
Leigh-Kathryn Bonner – Leigh-Kathryn Bonner is the Founder and CEO of Bee Downtown, a recognized business that has earned her the Southern Living Southerner of the Year, Inc 30 Under 30 Rising Star, a Forbes 30 Under 30 Social Entrepreneur recognition, and an Outstanding Young Alumni of North Caroline State University award.
Phil Gwoke – Phil Gwoke is an internationally-recognized speaker that shares his wisdom and insights from his 25 years of experience as a high school teacher, college admissions professional, marketing coordinator, corporate trainer, and small business owner. Young entrepreneurs looking for guidance can count on Phil's humor, experiences, research, and generational expertise to help them plan for a future of success.
Leisha Pickering – Leisha Pickering is a speaker and creator of the disaster relief non-profit HANDS: Helping Americans Needing Disaster Support. From organizing a widow's baby shower luncheon in New York after the 9/11 terror attacks to offering support following Hurricane Katrina, her humanitarian efforts and her service on local, national, and global boards makes her a speaker worth listening to at Catalyst University 2023.
With 12 years of leadership development in education, business, and service organizations, Catalyst University provides our communities with insightful leadership, speakers, and great networking opportunities to help local leaders flourish.
Contact Nick Riashi via email or at 248.766.4342 to discuss Wednesday and Thursday ticket options as well as sponsorship opportunities.