WMU president outlines vision for student success in State of the University address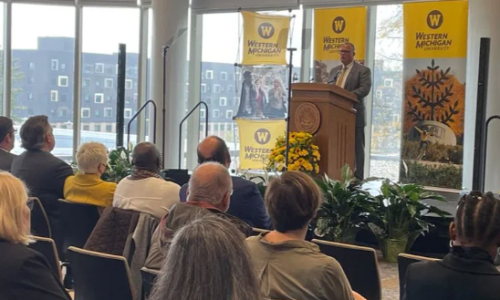 KALAMAZOO, Mich. — Striving toward student success: that was the vision for Western Michigan University as WMU President Edward Montgomery gave the 2023-24 State of the University Address Wednesday afternoon.
Held inside the WMU Student Center Ballroom, Montgomery detailed how WMU can become one of the best schools in the state for student success, according to WMU.
This included highlighting historic strides made possible by new initiatives and resources form the Empowering Futures Gift, organizers said.
"Now the breadth of subject we explore, the methods we employed and our inquiry, discovery and creativity may have changed, but fundamentally, our mission remained to educate, to enlighten and to make the world better," Montgomery said.
In addition, Montgomery shared how the university plans on building its strengths in experience-driven education, along with initiatives that aim to move WMU toward 100% student participation in experiences that prepare for careers.
"Experience-driven learning is in our DNA," Montgomery said. "Amplifying the strength to help design our academic excellence goal in strategic planning. It calls on us to engage every student in an experience that can foster lifelong learning."
Montgomery also announced Western Michigan University would be pursuing two new ventures that are supported by the Empowering Futures Gift.
The first of the two was the Experience-Driven Learning Accelerator grants, which provide financial resources for experience-driven programs and helps those already established "scale up their impact on students," according to Montgomery.
"Initially, we plan to offer up to 10 grants from $5,000 up to $50,000," Montgomery said.
The second initiative announced Wednesday was the Experience-Driven Incubator grants, which provide new resources for emerging experience-driven programs.
Their purpose is to help new programs establish "the strong footing" they need to grow, connecting knowledge from the classroom to what students need in their careers, according to Montgomery.
"This should advance career readiness and student retention and graduation rates," Montgomery said.
WMU plans to offer up to 10 grants ranging in awards from $5,000 to $25,000, according to Montgomery.
Wednesday's address comes as student enrollment climbed by 2% for the fall of 2023.
In addition, first-to-second year retention rates at WMU reached 79.8%, a percentage that's only been exceeded once in the past 23 years, according to WMU.
Along with student enrollment, WMU experienced a 24% increase in 2022 externally funded research expenditures, totaling $35.3 million, while total awards reached $41.9 million, an 18% increase, officials said.