Southwest Michigan First Gets Recognized as One of the Best and Brightest in Economic Development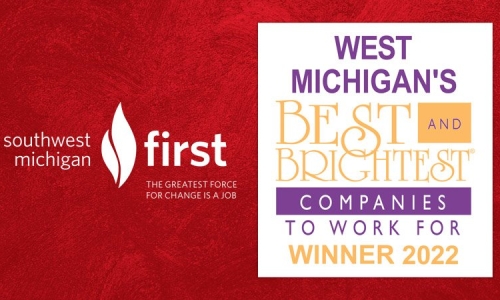 If you are ever looking for a business in economic development to be a part of, Southwest Michigan First has been awarded as one of the best and brightest companies to work at for the 11th year in a row! The Best and Brightest Companies to Work For® competition was made to help find organizations that show a commitment to excellence with their work and the enrichment of employees that leads to a better work environment and performance of duties. They select winners based on regional data for the companies in question and compare it to a set standard for the nation.
As an organization of privately funded economic development advisors, Southwest Michigan First knows that a great community is built around the people within it. Our employees are all part of the community that they help to build up, so we make sure that they are treated right so they can continue to provide excellent work for community growth.
We are honored at this recognition, and our team will continue to provide the passion and dedication that Southwest Michigan deserves.