KRESA's CareerNOW Program Opens Free Culinary Pre-Apprenticeship for Young Adults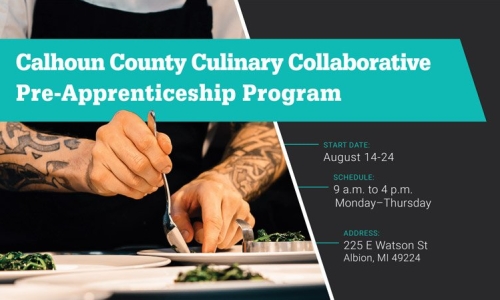 Kalamazoo RESA's CareerNOW program, in collaboration with local organizations and Firekeepers Casino Hotel, is thrilled to announce a free Culinary Skills Pre-Apprenticeship Program. The program aims to provide individuals aged 18 to 24 from Kalamazoo and Calhoun counties a remarkable opportunity to learn, grow and establish a promising culinary career.
The pre-apprenticeship course is in alliance with KRESA Career Connect, Kellogg Community College/MiLEAP, Marshall Opportunity High School, Michigan Works Southwest and FireKeepers Casino Hotel. The program is set to take place August 14-24, Monday to Thursday, from 9am to 4pm at Marshall Opportunity High School, located at 225 E Watson St, Albion, MI 49224.
Attendees can expect to earn up to five ServSafe Certifications, completely free of cost, making this opportunity not just accessible but also valuable for their future culinary endeavors. Upon completion of the pre-apprenticeship course, successful participants will transition into a four-week paid internship at FireKeepers Casino Hotel, gaining hands-on experience for 20 hours each week. Those who impress during this internship will be offered the opportunity to interview for a full-time, permanent position at the company with an attractive wage package.
In addition, FireKeepers Casino Hotel is committed to enrolling the successful candidates in their exclusive one-year Production Cook Apprenticeship program, providing them an avenue to further refine their skills and solidify their footing in the culinary world.
The deadline for applications is August 4, 2023. Prospective participants can visit the following link to apply: https://bit.ly/3qgl5fv
Download the Calhoun County Culinary Collaborative Pre-Apprenticeship Program flyer (PDF)
About Kalamazoo RESA
The Kalamazoo Regional Educational Service Agency exists to transform lives by inspiring educational excellence. It provides a continuum of educational services and support to students, families, school districts and communities across Kalamazoo County. For more information, visit kresa.org.
About CareerNOW
CareerNOW is a dynamic workforce development initiative, dedicated to providing youth with skill-building opportunities and pathways to success in the rapidly evolving job market. By partnering with local community colleges, businesses, and high schools, CareerNOW creates a network of resources and support for young people eager to kickstart their careers.