Invest in the Future of Southwest Michigan and Beyond with the WMU Bronco Challenge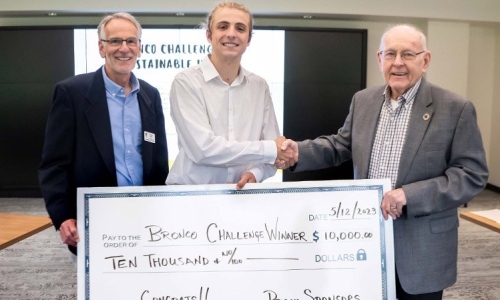 Western Michigan University (WMU) is about to launch the second year of an innovative sustainability initiative after a successful inaugural year in 2022-23. The initiative is called the Bronco Challenge for Sustainable Impact and charges students working in teams to solve problems that threaten the survival of civilization as we know it. Students select their own four-person team and work for the entire year to find solutions to issues raised by the United Nations Sustainable Development Goals. The end result of a Challenge project can be an idea for a product, a service, a business, or a public policy.
Students work not for grades, but prizes. First prize is $10,000 and is shared equally among team members. Second and third prizes are $6,000 and $3,000 respectively. Funding for the prizes is provided by corporate sponsorships at $5,000 each.
Sponsors receive the following benefits from their investment:
The option to suggest the scope of a Challenge project
The opportunity to interact with Western students, which are a great pool of future interns, employees, and customers
Recognition in WMU publicity about the Bronco Challenge
Generous corporate sponsors committed so far are: GreenLink Engineering, Greif, Kalsec, Meijer, and Pfizer. We hope you will join the list.
More information about the Bronco Challenge may be found at this link: Gearing Up for Year 2 Now! or contact Dr. Neil Drobny, Bronco Challenge director, at Neil.Drobny@wmich.edu or (614) 268-6100.