2 new life science companies 'graduate' from WMed Innovation Center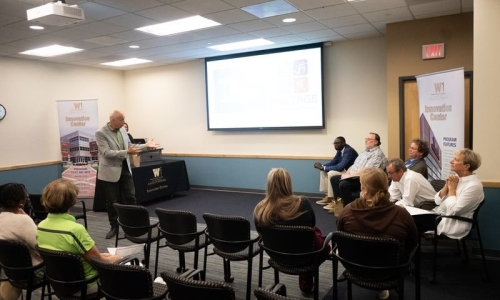 KALAMAZOO, MI — Two life science companies are graduating out of the WMed Innovation Center.
The WMed Innovation Center is an incubator for growing science and technology businesses. The 69,000-square-foot building offers lab space and office space companies can rent out. Companies get access to high quality materials and support services, according to the WMed Innovation Center website.
The end goal for companies who enter the Innovation Center is to grow to a point where they can be self sustaining and get their own space, Sandra Cochrane, assistant dean at WMed Innovation Center said.
That's exactly the success that was celebrated on Wednesday, Sept. 20.
Northern Biomolecular Services, a cell and gene therapy company, is "graduating" to a new facility at 5528 Portage Road. Vestaron, an environmentally-friendly insecticide company, is moving into office space at Kalamazoo Valley Community College.
Since NBS started in 2019, the company has had a lot of success, said Roy French, NBS director of laboratory science. The new space will allow them to expand the business side of the company, French said.
"(NBS) is growing so quickly and so fast (because) they have excelled in their work environment," French said.
The company researches various cell and gene therapies to see how they can be applied to find cures for diseases. French pointed to the development of the COVID-19 vaccine at Pfizer as a reason for why it's important to support innovation and aspiring local companies.
At Vestaron, the company uses peptides, a natural protein, to make a new form of insecticide. So far, insects have not developed a resistance to the product, Cochrane said.
"This is a small company that has had an innovation that is really quite remarkable, probably the first time for a company of this size here in Kalamazoo," said Robert Kennedy, chief scientific officer at Vestaron.
The residue left by the new insecticide is nontoxic, so workers don't have to worry about time frames for re-entering fields or harvest times related to spraying, Kennedy said.
The WMed Innovation Center is one of Michigan's "Smart Zones" a collection of 20 areas across the state where a fraction of local tax revenue is used to support "entrepreneurship, innovation and community," said Michigan Lt. Gov. Garlin Gilchrist, who attended Wednesday's event.
"Michigan has always been a state of people who are innovators," Gilchrist said. "We just want to make sure that infrastructure is modernized and supported to support the next generation of people."